No Images from
this date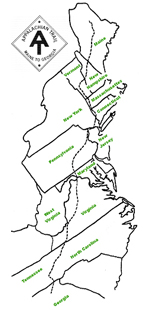 June 18 , 1981 Thursday From Gonzo!s Appalachian Trail journal

Woke up at 5:30 to have an early start and get into Elk Park early. After descending from the shelter down Roan or Cloudland (whichever, if they are not the same) reached Carver's Gap and began the traverse over several balds. Very nice walking on the balds. Made good time until I met a couple camped directly on the trail, more or less blocking the way up the mountain. They asked me If I was going to hike up Grassy Bald. I thought it was mentioned in the guide, but actually the trail skirted around it. He let me go on up and I noticed a shortage of white blazes, actually a total lack of them. After reaching the summit and descending a while, I stopped to read the guidebook as I began to think this was not the correct trail. After reading, I decided this wasn't the trail. I walked back down and he said he was sorry. The trail actually turned off to the left, right at their campsite. A very ambiguous turn – no double blaze that I saw to indicate a turn. I started booking (hiking fast) once again, and went thru some tall weeds that were wet. My feet got soaked even though I had gaiters on. The moisture wicked right down my socks. Hiked up Yellow Mountain and met two people we had run into at Nolichucky from Pennsylvania. – the ATC life member, and his son. Harry F. Hart R.D.1 Box 210 Hummelstown, PA 17036. Currator of Raush Gap Shelter. They were on their way to Nolichucky, hiking southbound. I also met four other day-hikers after Hump Mountain. Had a Pop- Tart on top of Hump, but the summit provided no views, being all fog shrouded.

Most of the trail today was down hill, but the uphill parts on Yellow Mountain and Hump Mountain were tough. Reached highway 19E between 12:30 – 1:00pm I believe. I walked down the road to a small store where I had a soda (Spring Wine?) and a pint of Butter Pecan ice cream. From there I hiked into the town of Elk Park, and immediately went about to find the PO, where I picked up a package and a letter from the Kamphoeffner's, including one sent by their daughter Janice. No forewarded package though. Like a kid at Christmas, I sat outside and opened my stuff. Just as I was getting ready to leave, I turn and see Chuck walking toward the PO, and just beyond, Bruce and Pat in a pickup! What a coincidence. Chuck had to check to see if there was a package for him. There wasn't. I hopped into the truck with the rest as the driver, Scotty, took us to Roan Mountain State Park camp area to spend the night. Cost us $4.77 for two tents – one site. Nice and cheap per person rate. Scotty was to come by in the morning and drive us the 10 or so miles back to the trail. Chuck and I have to go back to the PO in the morning to see if we received anything. (I am still expecting the original shipment of money sent by Mom and then forewarded once it arrived in Hot Springs) We enjoyed a swim for $1.35 each at a nearby pool, and ate spaghetti, a salad, and a hot fudge sundae desert for $4.46 each. Bland spaghetti sauce, desert was good, but not enough for the price. Sat around and wrote Connie a letter in the evening, just after 9:00 pm. Tried to call Carl also – no answer. Slept in Chuck's little 2 man Gimme-Shelter.