No Images from
this date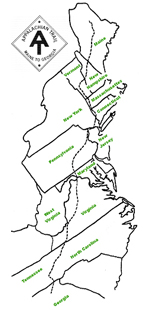 June 19 , 1981 Friday From Gonzo!s Appalachian Trail journal

Up at 6:30. Woke up with a sore hip. Must have laid incorrectly, I suppose. We have to be at the park entrance at 8:00 am to be picked up by Scotty. Grits again. Our ride took us all the way to the PO, and my letter is in! Yahoo! Now I have bucks galore and the two lost letters from Constance. Chuck's package wasn't in, but he talked to his mom and found out she had sent it to Erwin, behind us. Pat and Bruce walked on down the trail. Chuck called the Erwin PO and arranged for the package to be sent to Elk Park (Hampton?) by tomorrow morning. I am going to stay here with Chuck, and looking at the map, we can go to Hampton by US 19e and get a little bit ahead of Bruce tomorrow.
Chuck keeps buying beer! I bought some groceries. Chuck owes me $2.00 for bread and peanut butter. While hanging around, we talked with a guy & gal in a van and they gave Chuck a beer, and offered me one. They gave us a ride a mile down the road to the Times Square Inn. Ate lunch there of a huge hamburger with everything including a thin slice of ham and something like a chilly sauce on it, plus a "coconut cream pie" for desert. Not too bad for frozen pie. After lunch, I was attempting to call Kamphoeffner's and mistakenly called my uncle Delray. Talked to him for a while and then talked to Janis for a while after dialing the right number. Both seemed happy to hear from me. We walked back to the PO and asked if they could think of anywhere we might pitch our tent for the night. The lady suggested the Methodist church where other hikers have been known to camp. We started up that way 'till we saw a Shell gas station with 16 oz cokes for 15 cents - What a deal. Later went up to the church and established ourselves. I believe I will write another letter to Connie and one to Amy. Now Chuck owes me $4.00 "cause I bet him we were going a certain way on the road tomorrow and I disagreed, I won the bet. He said he would pay on installments. He's mad now 'cause the flies are bugging him. While lounging around, we talked about many things, one of them being my girlfriend, Constance. I showed him the letters I had received from her that mentioned how she would always be there for me and that she would do anything for me. I missed her, and her writing this made those feelings even stronger. I thought about calling it quits and returning to be with her.