May 25, Wednesday (1986 miles to go)
Beautiful this morning, and thankfully no rain last night. We stopped almost immediately after beginning our hike today to take pictures of the accumulation of clouds that had all sunk into the valleys around the Snowbird Mountains during the night and had yet to burn off. Today would be another fairly short day of about 14 miles to our next resupply point at Fontana Village before entering the Smoky Mountains. The trail seemed to be a little long right before Yellow Creek Road, and then again before Highway 28 before heading into Fontana Village.

The Village is not directly on the trail. It is located two miles down the road. We began hiking along the road and had gone at least half way before we secured a ride from a guy and his two beagles in a green pickup. He dropped us off at the entrance to the village, but wouldn't you know there were two entrances, and we got off at the wrong one. It took a little bit to find the Post Office and store as a result. I received a lot of goodies from my mother, and a letter from my friend Dave Szabo. Good to know that someone is thinking about you. Sent off the two rolls of film that I had shot, and then went next door to the small store to resupply for the next leg of our journey. Of course before buying essentials for the next section, I had to have a pint of Cherry Vanilla ice cream and two cokes. To help prepare for the next section I consulted the data book to determine how many days worth of food I would need to reach the next resupply point in Hot Springs, North Carolina. The data book has all the major points along the trail listed with the distance traveled accumulating from one point to the next. It is helpful for getting a general idea of where you are, how much farther you have to travel, where the shelters and campsites are, where the groceries are and how far off the trail you must travel to get them. I figure how many breakfasts, lunches and dinners are needed for the next stretch, and then subtract from that the amount of food that I have left over from the previous section, or from either packages sent to me. Usually there is no left over food since hikers tend to eat any extra the last day or so before getting to town. I then buy only as many breakfasts, lunch, or dinner items as needed.

After buying your supplies, the ritual of paring down the extra unnecessary weight of packaging begins. Peanut butter is taken out of the glass jar and put into a plastic container; all the oatmeal packets are taken out of the box and put into the food bag. All items packaged in cardboard are taken out and the cardboard is discarded. Sometimes the cardboard is used to make a hitching sign to get you back to the trail. I made a sign that read "DAM" and stood out by the entrance to the village beside the road leading back to the trail near the Fontana Dam Shelter. We were almost immediately picked up by a gift store employee and driven the two miles back to the shelter.

The Fontana Dam Shelter, also known as the "Fontana Hilton," is located about a quarter of a mile from the Dam that serves as the Tennessee Valley Authoritie's pride and joy and produces electricity for a large area. At the dam there is a visitors center, public restrooms, and phone. The best part is that the restrooms have free heated showers! Jim and I walked down the road to the complex and alternated using the phone and taking a good lonnnnng shower. I called home and had a Mountain Dew from the vending machine nearby. I mentioned to my mom that when sending raisins, she should send one large box rather than the small individual packages, talked a bit about sending some more film and what type to send, and requested she inquire from our neighbor, a photographer, about how to use a photographic light meter that I was apparently carrying at this point in the trip. I was interested in finding out how to correlate the values for different size lenses since I was carrying my Canon AE-1 camera with it's 55mm lens, a 28mm lens for wide angle shots, and a 135mm lens for zooming in. The 28 and 135mm lenses were mostly plastic, while the 55mm was slightly older, but good quality glass and metal. I don't think I kept the light meter the whole trip, but don't know how long I waited before I realized I did not need it and sent it home. I found out that I had received my apartment deposit back from my university lodging, so the check could be cashed and utilized for either film developing or something like that. She said she would send off another package to Erwin, Tennessee if I thought she still had time. She had already sent one package off today to Hot Springs (cost $2.49 plus .45 insurance - see postal receipt). Tomorrow she would send me some more film to Hot Springs, NC (cost $.95 plus .45 insurance - see postal receipt) rather than Erwin. I may have been shooting Ektachrome bulk slide film rolled by yours truly that had been left over from my journey in 1981. I told her to make sure that whoever developed the film knew to mark the envelope accordingly and be sure to save the reusable canisters. I requested Kodachrome 64 slide film. I think most hikers at this time shot slide film. I had heard that the image and color quality was far superior to print film and that most photographers who shot outdoor scenes for magazines used slide film. Good enough for them - good enough for me.
We talked for 12 minutes at a cost of $4.67.
I had set up a tentative maildrop schedule which I had written in my journal on the page following the front cover. It was not intended to be adhered to literally, but gave me something to gauge my progress by. As I reached each maildrop I recorded the actual date I arrived. Today I was one day behind schedule.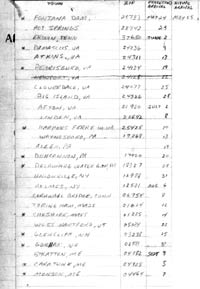 (click image for larger view)

On our trip back to the shelter, we noticed that "Ford", the automobile company, was filming some footage for a commercial for the '84 LTD on the road between the shelter and the visitor complex. They kept driving back and forth in an attempt to get it "just right." Ate Sweet Sue chicken and dumplin's from a can for supper, and brownies for dessert. The meals immediately after resupply are always the best as they can be just about anything rather than dehydrated or "just add water" type meals. Even though this meal came from a can it was delicious. Almost as good as grandma's dumplin's! With numerous trash cans nearby, the refuse can also be discarded rather than being carried around for days.




Gonzo! Appalachian Trail Journals ©1983