July 6, 1983 Wednesday (1219.7 mtg) From Gonzo!s Appalachian Trail journal
Last night proved to be my last night in the Shenandoah National Park. The trails were well maintained, and the miles went by quickly with little effort. I found it to be a pleasant experience. Just over eight miles of easy trail this morning and I reached the northern end of the Shenandoah National Park. Not today, but soon I would be through the whole state of Virginia, all five hundred plus miles of it!
A little over a mile past the park boundary was the Tom Floyd Wayside, the only shelter with the term "Wayside" applied instead of shelter or lean-to. Must be something special. I had to stop just to check it out. It had a patio, and it's own gold leafed, hard-bound shelter register. Fancy that. Took a short break at the wayside and spent time reading the register. Tom Carmichael was there also. As we both finished our breaks, I decided to hike in front of Tom, and soon found myself well out of sight of him. Off across a grassy field I saw a large swimming pool in an area known as Harmony Acres, a sub division of some kind. I thought it would be nice it would be to have a swim about now. Soon after, I hiked along the edge of the National Zoological Park - Conservation and Research Center. The sign on the fence was humorous: "Stay on Trail… Violators will be eaten!" I saw a few non-native animals off in the distance like gazelles or something from Africa as I made my way along the property, but no meat eaters to speak of. The biggest threat that the park imposed at the time was tall grass containing ticks. Although there were warnings as we approached the area written in shelters, or as notes in ziplock plastic bags tacked to trees, I did not have much of a problem with ticks. Regardless, I did check myself thoroughly.
From there the trail went up and down a bit and then along the crest of what I named "forever ridge" after US 522. A short roadwalk lead into the small town of Linden, Virginia in Manassas Gap. For a one dog town, it had all that I needed, which included a post office, and a store to purchase a few groceries. I received a post card from AmyZalisko, a fellow zoology major from College. While there, I wrote a few post cards and mailed them along with the few that I had written at Gravel Springs Hut. I cooled down in the afternoon heat with the help of a pint of butter pecan ice cream, and an orange soda, perhaps an Orange Crush in recognition of Jim's Appalachian Trail effort. Since the shelter that I intended to locate myself at this evening was only three and a half miles up the trail, I bought a few things for the evening including some cookies, and candy bars.
I just about got lost on the way up to the shelter, but fortunately managed to find my way. Along the way I encountered about 7-8 PATC (Potomac Appalachian Trail Club) members checking out the trail in the area. Maybe they had similar reports of people getting lost in the area and that was why they were there.
Tom rolled in a couple of hours later and spent the night with me at Manassas Gap Shelter. Supper tonight consisted of Knorr Asparagus soup with some extra noodles thrown in to give it some texture and some workout for my jaws. I ate half of an instant pudding for dessert and held back the other half for breakfast tomorrow morning. Instant puddings are great, but the practice of not being able to add fresh milk makes them not quite as good as at home. Instant milk is sometimes added, but still the mixture comes out a bit gritty - but mighty tasty to a hungry hiker.
I copied something from the shelter register this evening as it struck me that this being my second trip, I was well on my way to fulfilling his prediction. Written by Francis Parkman, the note describes the lure of the trail and its effects upon those who may travel upon it.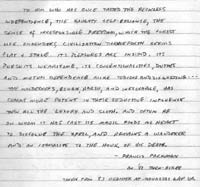 Gonzo! Appalachian Trail Journals ©1983