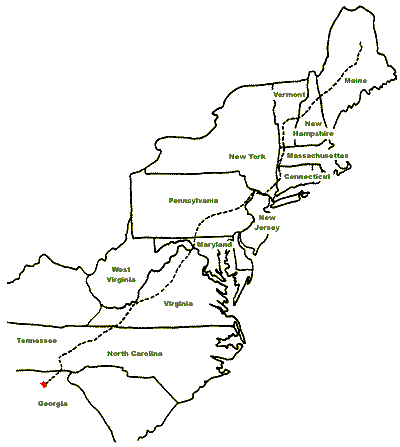 July 3, 1983 Sunday (1293.3 mtg) From Gonzo!s Appalachian Trail journal
I spent the day with my parents, Beverly and Charles Strackeljahn. Part of the day was spent looking at the slides that I had shot so far and evaluating for exposure. Of course, it was also a way for me to show them all that I had been through and show them what the trail was like. We drove to Waynesboro and picked up my supplies that were left at the fire station. The snakeskin I had placed into a bottle of alcohol would be taken back to Illinois as a souvenir.
During the afternoon I selected a short trail accessible from Skyline Drive called the Deadening Trail that led to a nice rocky overlook, and we all hiked to the overlook for the view. We ate supper at the Elkton Pizza Hut.
I left a note for my mom with directions to my college friend Glenn Stolar to purchase some white socks for me at Shawnee Trails outfitters in Carbondale, IL and send them to her for shipping to me at a later date. These were liner socks, probably Olefin polypropeline liner socks said to wick moisture away from your feet. These were the type I had been using and they seemed to be working out fine although they would tend to get thin spots on the heals with all the wear of daily hiking. According to the notes I left, I must have had plenty of suppers, but lacking in the breakfast department as we can see how I planned how many breakfasts (B), lunches (L) and suppers (S) I would need for the next few days.



Gonzo! Appalachian Trail Journals ©1983