Sept 11 , 1983 Sunday (127.4 mtg) From Gonzo!s Appalachian Trail journal
Only about nine miles this morning to my final maildrop in Monson, Maine, home of Shaw's Boarding House, and the start of the 100 mile wilderness section leading to the culmination of my hike at the summit of the mountain known as Katahdin, in Baxter State Park. Two and a half miles of woods walking brought us to the road leading to Blanchard, Maine. Along that section I passed an extremely old and picturesque cemetery on the right side of the road. At the intersection of roads in the center of Blanchard, the trail supposedly was relocated off the road and around Lake Hebron on its' Western shore. I am still unsure whether the trail relo had been open or not, but I walked the road all the way from Blanchard to Monson, a total of about five miles or so. The road went around Lake Hebron on the East side. Rain fell most of the time during the walk. I passed the fire station at Monson and made my first stop at a small café for breakfast.
I stopped at the post office to pick up my final maildrop. I am sure that I received more than the package my mother sent me on September 7th, but do not have it recorded. In that package I received a small backpack, actually a "book" backpack, that I would use for the final ascent up Katahdin in about a week, and of course some snack food.
Although I had about a week more of backpacking, Monson was the end of the trail for Ron and Cathy, who had already done the final section to Katahdin. I set out to find lodging for the evening. In a town the size of Monson, I did not have to look far to find Shaw's Boarding House, where I found Mr. Shaw and his wife eager to help hikers in any way they could. Mr. Shaw was a horseshoe pitching fanatic and continually tried to convince each hiker to throw a game with him. Apparently he was quite the expert on his home pit. Everyone laughed as Mr. Shaw repeatedly called Ron by another name that he thought was his real name. He called Ron "Hog." Just like that was a normal name. How he ever got Hog from Ron, I will never know, but it sure was funny. Ron never corrected him, just laughed along with the rest of us while wondering with a big question mark where he got the idea his name was "Hog".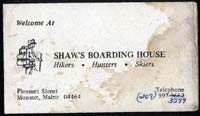 (click image for larger view)
A new hostel had been opened in Monson this season in the Old Church located there. I did not stay there, but apparently there were others who did. I heard stories about how Mr. Shaw had been complaining about their "unfair business tacticts", whatever those might have been. I think the owners had been driving around intercepting hikers as they stepped out of the woods and trying to talk them into staying or something like that I imagine.

I went to the grocery store nearby, more of a small general store, but had everything that anyone would need, including A & W Rootbeer. I bought one to drink on the spot, and then purchased one for the road. Could I manage to carry it all 118 miles to Katahdin without being tempted to drink it? I had heard of hikers climbing Katahdin in a tuxedo and celebrating with a bottle of champagne, but I would be the first to toast my accomplishment with an A & W Rootbeer. I gathered all the other necessary items for the last leg of the journey, wrote a few post cards, dropped them off at the post office, and headed back to Shaw's for the big pigout.

Lan and Nick finally rolled in just in time for Dinner. Nick had waited for Lan back at Breakneck Ridge Lean-to and then walked to town with her. Dinner was fried chicken, along with beets and potatoes…and loads of it! Mr. Shaw's job seemed to be convincing the guests to eat more, even after they were stuffed. I did not record how much I ate, but judging from other food stories I have recalled, I imagine this one would top them as the food was so good, and definitely unlimited.
I talked with someone at home twice today. The record shows I made a call to Illinois, and then someone called me in Monson. The call to Illinois was only two minutes long, so I imagine that I had called, but Mom was not home at the time so the call lasted only two minutes (cost $1.98). I must have given whomever I talked with the phone number for the phone in Monson, and Mom called me back later. I told Mom that after the trip I was planning on making my way down to Cooper's Mills, Me where I would find Louis Ellinwood and her family (the folks I had met in Rangely, Maine) who had invited me to attend the Maine Farmer and Gardeners Association "Common Grounds Fair" on September 23-24-25. (notes from Mom) We talked for 16 minutes this time (cost $4.46). This was the last contact, the last resupply before the end of the trip. I was about to enter the "100 mile wilderness" - the final stretch of the journey.
Looking back at my journal, where I had recorded my tentative Post Office schedule, I find that I had stuck to my schedule for the most part during the early stages of the trip up until Waynesboro, Virginia. At that point I had reached the Shenandoah Park where I really began to travel longer, easier days while in the park. I stayed pretty much almost a week ahead of schedule until Glencliff, NH where I entered the White Mountains of New Hampshire and slowed down. I dropped two days by the time I had traversed the Presidential Range and reached Gorham, NH. Maine slowed me down even more and held me up such that by Stratton, Maine I was one day behind my tentative schedule. With my extra day off in Stratton and further slowness, I rolled into nearby Caratunk, Maine four days behind schedule. By today, September 11, I was a full five days behind, but not complaining one bit. This does show either the difficulty of the mountains in these states, or the desire to prolong the adventure - or perhaps both. I have added the actual arrival times for the last six stops I had originally left uncompleted. I believe the asterisks denoted PO stops that I definitely intended to make since they were mostly right on the trail route. I made no written prediction of reaching Katahdin, as you can see, so I do not know what the final comparison in days ahead or behind for the entire trip ended up, but I suspect I lost a day or two during the 100 mile wilderness. (Recording had stopped as I sent my journal home when I reached West Hartford, VT - forgetting to enter even that date before mailing)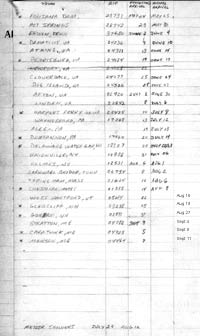 (Click image for larger view)
Gonzo! Appalachian Trail Journals ©1983