No Images from
this date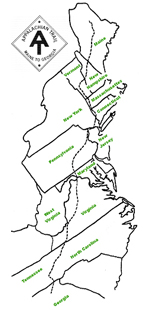 July 10, 1981 Friday From Gonzo!s Appalachian Trail journal

Bob left early this morning. I was up and saw him off. I tried to take an early swim, but a guy told me to get out - he was cleaning the pool. I ate the rest of the donuts for breakfast along with bananas. I followed the directions given earlier yesterday, and walked to the post office to get my book stamped. While there, I met a girl who wanted to become a lawyer. I told the lady at the PO to tell my parents I was at the Hollins if they showed up some time inquiring about me. As I walked back down the road, I ran into Larry and Cindy in Cindy's car. Ike, her dog, who was normally cream colored is now reddish brick colored after rolling in the red clay in Georgia where she picked up her Subaru Brat. They were heading to the PO so I told them to stop by at the Hollins after they had taken care of all their business.

Larry took a room, and since I had checked out, I sat in the air conditioning of his room for a while. I was driven back to the PO to post a note for Mom and Dad after I became uneasy as the day progressed and they had not arrived. They finally arrived at about six (estimate). Had fish for supper at some restaurant with my parents and then we rented a room at the Hollins since they needed rest before driving back to Illinois. I spent the evening watching "Deadman's Curve", the story of Jan and Dean, in Larry's room, and then told him I would see him in the morning.